GET 7 DAYS OF FREE DOWNLOADS ON US!
About Choosing Video Virtual Set Background or Stage
In this step, carefully select the video virtual set background or stage option that you would like to appear behind your on-screen talent  in the presentation you will be ordering. Choose from corporate, custom, locations, medical, and more. You can also upload your own images.
[diss_step7]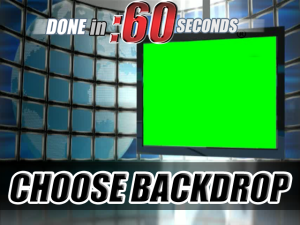 Our library of video virtual set background options will add a classy touch of sophistication to your presentation. Upload your own images or let us help you create a custom branded video backdrop.  It's a simple way to make a powerful statement. If you're uploading your logo, then pay attention to your organization's colors and branding when choosing your background or text colors.
Remember, your own images will look great, just keep in mind that there will be an actor in front of them unless you choose voice-over only or no actor. Acceptable formats include jpg, png, gif, tif. Watch the size upload limit. Anything 1920 x 1080 72 dpi will be large enough.