3D Virtual Character Avatar Video Samples Prices Starting @ $399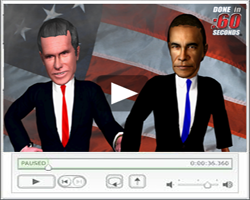 Stand out from the crowd and use a 3D virtual character avatar video to host your online presentation. Whether it is for training, news updates or nonprofits, a virtual character provides a unique way to deliver information to your audience. We have 4 standard avatars available. Don't see one you can use?  We'll create a custom avatar for your brand, OR star in your video as a virtual version of yourself with our virtYOU feature.

Just upload a few pictures and record your voice and we'll create a 3D avatar of YOU!