2015 STATS: VIDEO + SOCIAL=SUCCESS!
VOTE FOR Jennifer. You just watched her audition above!
Facebook Email Blogging Video Marketing Tips 2015
We could all use a little business boost in 2015, right? If a picture paints 1,000 words, then a 60 second video is worth 1.8 million, according to Forrester's researchers. Use targeted email with video to get in contact with consumers. $1 spent on email marketing has a return average of $44.25! If you had to choose one social media site to use, you might want to try Facebook. Facebook is the #1 referrer to websites with 1.5 million active advertisers on the site.
What about blogging? 95% of business that blog report a higher search rank. Internet users actually spend countless more time reading blogs than visiting social media sites. Today's search algorithms are now looking at how the readers are engaging with that content; presenting it properly and relevantly is critical. So get your videos ready to go!
Please enjoy the free information about Facebook email blogging video marketing tips and as always, if you need help with video production or additional services just give us a call 888.528.1999. Advice is always FREE.
NEW VIRTUAL SETS ADDED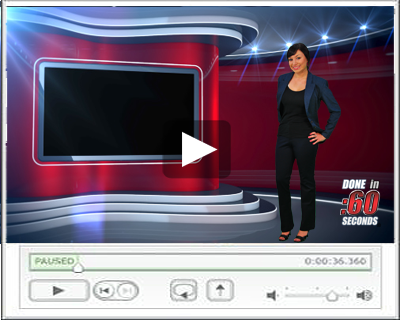 We have added more Virtual Studio stage sets to our background library. There are now over 25 unique sets to choose from and we can further customize your set with your organization's colors and logo. We can even add animated display monitors to highlight images you'd like to display- just UPLOAD THEM!
More updates and improvements on the way in 2015, including business profile templates, logo animations and new partnership opportunities as well as package discounts.
Check out our sample videos to learn more about specific pricing and features, including news updates, business profiles, logo animations, training tutorials and virtual characters where YOU star in the video.
Call us and we'll send you a promo code for a discount off your order. 888.528.1999
Remember, Quality is ALWAYS guaranteed.
DISS & DAT: VISUAL COMMUNICATION & MARKETING
Ever heard, "A picture is worth a 1000 words?" Imagine what a VIDEO is worth! Here's a freebie, if its a bad picture or video, it's not worth squat, and could damage your image. It is by far, easier to SHOW than it is to TELL. Read the articles below to learn WHY and HOW using incorporating quality video content is a prudent decision for 2015.

93% of ALL human ‪#COMMUNICATION‬ is VISUAL. Got VIDEO? @donein60 Learn about ‪#Visual‬ ‪#Marketing‬. Learn More

Vital 4 biz to offer EASY 2 DIGEST ‪#VideoContent‬. Digital ‪#Marketing‬ Trends 2015: Read Article
Quote of the Month
"Don't only practice your art, but force your way into its secrets, for it and knowledge can raise men to the divine."
-Ludwig van Beethovan
Done in Sixty Seconds is a registered trademarks of Done in Sixty Seconds, LLC.