SEND US YOUR FOOTAGE TODAY HAVE A VIDEO TOMORROW
FAST ECONOMICAL PROFESSIONAL VIDEO EDITING SERVICES
So let's say you've been successful at capturing some great video footage. It could be an interview, an event, testimonial, tutorial, anything. Maybe you even used your phone or a go- pro. You made sure you had enough light, didn't shake the camera and it was even in focus. Problem is, it's too long, needs some music, maybe a voice-over and of course… your branding. Having the necessary hardware to work with your video AND make it look PRO can be expensive and time consuming. Buying Computers and learning software, probably aren't the most efficient use of your energy…not to mention that all important know-how experience required to do it in an efficient amount of time. Well now you can let our professional editors custom create a video using your captured raw footage. Upload your video clips and fill out your online DISS order form and we'll put it together for you. You can add on-screen talent or voice-over talent, as well as music, titles, graphics and images. We even support 360 virtual reality images as well as UAV aerial video footage. Prices start at $99 with turn-around times being as little as 1 day. Call us to learn more.
Please enjoy the free information below and as always, if you need help with video production or additional services just give us a call 888.528.1999. Advice is always FREE.
VIDEO FORMATS FOR MOBILE MEDIA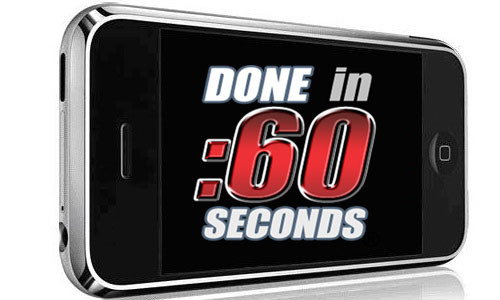 Are your videos mobile ready? It's no news flash, a vast majority of online video content is now digested via mobile platforms. That being said, have you thought about YOUR content and whether it is maximized for efficient mobile use?
It's not just about the actual file type. Most 3rd Party video hosts allow you to upload a variety of video files from mov to mp4 to mpg and so on. The majority of videos today are HD or 720p, 1080i or 1080p, with some 4K videos being used. If you are streaming 4K UHD, bear in mind that only a very small percentage of users have access to mobile displays with 4K screens, meaning you're making the rest of us wait for a larger file to buffer UNLESS you use a 3rd Party host, such as YouTube, which optimizes playback for the device and bandwidth speed. But in most practical cases, 4K can be overkill.
What about your content? Are you getting it Done In :60? Seriously, whether you DIY or have a professional team create your video, remember, you've got around 20 seconds to earn your audience's attention and after that up to 60 or 120 seconds before they move on. Keep in mind the environment where most viewers watch video on a phone or tablet...riding the subway, waiting for a meeting, airports, etc. In other words, they generally watch it while doing or waiting for something else! Get to the point quickly and leave information for them to follow-up with later. Check out this article for a few more tips.
Call us today and we'll send you a promo code for a discount off your order. 888.528.1999
Remember, Quality is ALWAYS guaranteed.
DISS & DAT: INTEGRATING VIDEO INTO YOUR MARKETING
#SIMPLE ways to integrate #VIDEO into your marketing strategy: Read Article

5 #CREATIVE ways to use VIDEO #MARKETING: Read Article
Quote of the Month
"I am looking for a lot of men who have an infinite capacity to not know what can't be done."

-Henry Ford
Done in Sixty Seconds is a registered trademarks of Done in Sixty Seconds, LLC.